NY Times Email:
BREAKING NEWS Senate Democrats clear way for Iran nuclear deal

Thursday, September 10, 2015 4:08 PM EDT

Senate Democrats delivered a major victory to President Obama on Thursday when they blocked a Republican resolution to reject a six-nation nuclear accord with Iran, ensuring that the landmark deal will take effect without a veto showdown between Congress and the White House.

A procedural vote fell short of the number needed to break a Democratic filibuster. It culminated hours of debate on the Senate floor and capped months of discord since the United States, Britain, France, Germany, Russia and China announced the agreement with Iran in July.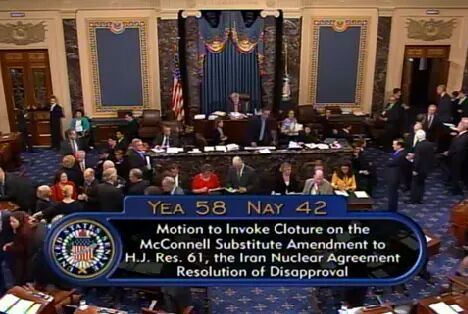 After Senate Majority Leader Mitch McConnell attempts to rewrite history, Senate Democratic Leader Harry Reid points out that McConnell lives in an alternate reality.
Sen. Tim Kaine (D-VA) shows some spine and Sen. Bob Corker (R-TN) melts in a puddle of Obama Derangement Syndrome on the Senate floor.
Film at 11 below the fold.
You need to login in order to like this post: click here