Today at around 10:30 a.m. Eastern time, the U.S. Flag was raised over the American Embassy in Havana, Cuba: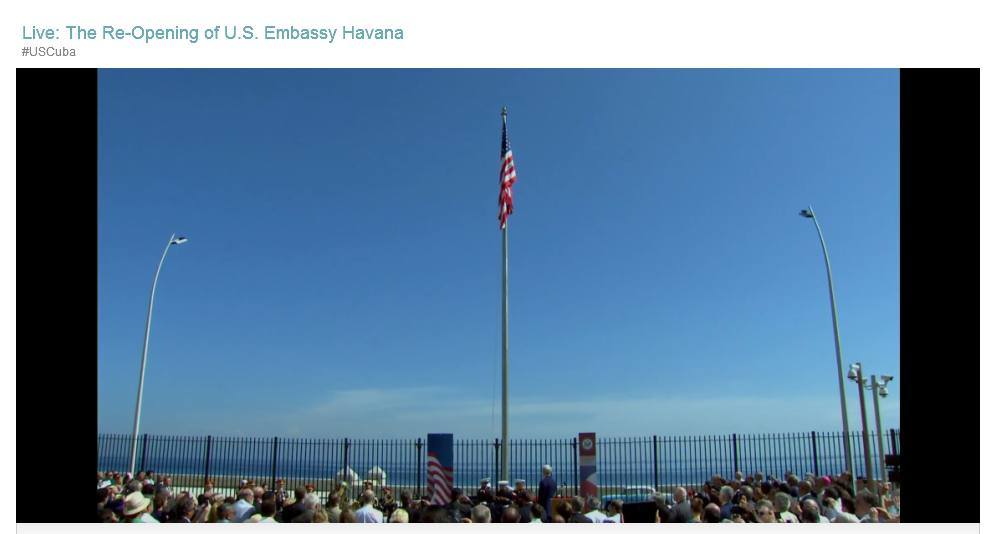 Secretary John Kerry spoke about the renewed friendship between our two nations; the flag raising ceremony followed.
(Full transcript below the fold)
From Twitter:
@JohnKerry: Establishment of normal diplomatic relations is something two countries do together when the citizens of both will benefit.
@JohnKerry: I applaud @POTUS & President Castro for having the courage to bring us together in the face of considerable opposition.
@JohnKerry: The time is now to reach out to one another, as two peoples who are no longer enemies or rivals, but neighbors.
These three men were Marine security guards who lowered the flag back in 1961. Today, they handed that same flag over to the Marine color guard.
@JohnKerry: 54 years ago, you gentlemen promised to return to Havana and hoist the flag that you lowered on that January day long ago.
@JohnKerry: Today, I invite you on behalf of @POTUS and the American people to fulfill that pledge by presenting the Stars and Stripes.
The Marines carried the flag to the flag pole …

… the flag was raised, signally a new era in Cuban American relations.

You need to login in order to like this post: click here