NY Times Email:
BREAKING NEWS Senate Democrats clear way for Iran nuclear deal

Thursday, September 10, 2015 4:08 PM EDT

Senate Democrats delivered a major victory to President Obama on Thursday when they blocked a Republican resolution to reject a six-nation nuclear accord with Iran, ensuring that the landmark deal will take effect without a veto showdown between Congress and the White House.

A procedural vote fell short of the number needed to break a Democratic filibuster. It culminated hours of debate on the Senate floor and capped months of discord since the United States, Britain, France, Germany, Russia and China announced the agreement with Iran in July.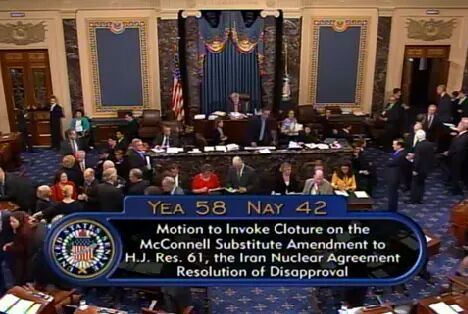 After Senate Majority Leader Mitch McConnell attempts to rewrite history, Senate Democratic Leader Harry Reid points out that McConnell lives in an alternate reality.
Sen. Tim Kaine (D-VA) shows some spine and Sen. Bob Corker (R-TN) melts in a puddle of Obama Derangement Syndrome on the Senate floor.
Film at 11 below the fold.

From CSPAN:
Transcript (from memory):
00:00 Mitch McConnell: We'll never give up as long as that black guy is in the White House. And then if any other Democrat becomes president, expect more of the same. Don't you understand???!? BOMB BOMB IRAN!!!

09:15 Harry Reid: HAHAHAHAHA!! You are reality challenged.

21:25 Smirky McChinless: Iraq, blah blah, George W. Bush – best president evah. Blah blah. And we hate Hillary Clinton, too!

27:40 Give 'Em Hell Harry: I renounced my vote on Iraq.
~
—Looking for second clip—
Transcript (from memory):
Tim Kaine: You knew it was 60 votes, it has always been 60 votes!

Bob Corker: President Obama hurt our feelings!! Waahhhh!!
~
Today, the Senate took an historic step forward and voted to enable the United States to work with our international partners to enable the implementation of the comprehensive, long-term deal that will prevent Iran from obtaining a nuclear weapon. This vote is a victory for diplomacy, for American national security, and for the safety and security of the world. For nearly two years, we negotiated from a position of strength to reach an agreement that meets our core objectives. Since we concluded these negotiations, we have had the most consequential national security debate since the decision to invade Iraq more than a decade ago. Over the last several weeks, the more members studied the details of this deal, the more they came out in support. Today, I am heartened that so many Senators judged this deal on the merits, and am gratified by the strong support of lawmakers and citizens alike. Going forward, we will turn to the critical work of implementing and verifying this deal so that Iran cannot pursue a nuclear weapon, while pursuing a foreign policy that leaves our country – and the world – a safer place.