Sahro Hassan, a young Somali Muslim immigrant to Maine who is designing fashions
There are parts of the United States that I think of as populated by white folks. With the rise of anti-immigrant rhetoric from the right, and specifically anti-Muslim spews, I certainly didn't think of a state like Maine as a place to examine African migration to the U.S. And yet, one of the most interesting immigration and re-settlement success stories, is that of the Somali-Americans who live, flourish, and have re-vitalized the economy of a depressed area — the Somalis of Lewiston, Maine.
Take an economically struggling Maine mill town of 36,600 and add to it nearly 5,000 Somalis seeking haven in a new country. On the surface, it hardly looks like a formula for success. When the first substantial numbers of Somalis began arriving in 2001 in Lewiston, they were not welcomed with open arms. Unemployment was high, and locals feared that new arrivals would overburden social services and increase competition for the few jobs left after the closure of once-thriving textile mills.

Despite Lewiston's economic slump, it was one of the US cities that Somali refugees themselves found attractive—through websites and word of mouth: good schools, affordable housing and, most important of all, a safe place to raise a family. Many brought a strong sense of community and entrepreneurship; they enrolled their children in the local public schools, signed up for English courses and found—or created—jobs.

Today, per-capita income in Lewiston is rising. The crime rate has dropped. The center of town, once called "The Combat Zone," has new, family-owned grocery stores offering halal meats (prepared following the Islamic method of slaughter), and there are storefront mosques in between new organic-food cafes as well as other more conventional businesses. "Challenges still exist," comments Julia Sleeper, founder of Lewiston's Tree Street Youth Center. "Acculturation is messy." But relations, she says, continue to improve. This, she says, is "testimony to the strength of both communities."
I was captured by the story of one of those young Somali-Americans (seen in the video below), Sahro Hassan.
Hassan's own story began before she was born, when her family emigrated in the early 1990's from Somalia.

"I remember my mother telling me that she and my father walked for days and days before they ended up in Kenya," she recalls. Desperate to leave famine and civil war behind, Sahro's parents spent several years at a refugee camp named Dadaab, some 100 kilometers across the border, where Sahro was born. After relocating to the Kakuma camp in northeastern Kenya, the family was accepted for refugee resettlement in Indianapolis, Indiana when Sahro was 10. After four months there, Somali friends in Lewiston suggested the Hassans join them in Maine. "I feel humbled because of the experience I had at such a young age," says Hassan. "Looking back, no one would choose to grow up in hardship, but I believe that if I can overcome my past, I can overcome anything."

There was indeed much to overcome. When Hassan, her parents and seven younger siblings arrived in Lewiston in 2007, none of them spoke English. Her father needed work. Despite the obstacles, Sahro Hassan flourished.
Sahro Hassan: Fashioning a Dialogue from David Wells on Vimeo.
Cynthia Lewis, a Maine journalist and blogger, has been following the Somali immigration story. In Isbedal: A Maine Mill Town and the 5,000 Refugees Who Call It Home she writes:
Since 2007, I've been writing about Lewiston and the 5,000 Somali refugees who have made it their home. In Lewiston, the news is mostly good. The magazine and newspaper pieces I've done are stories of adaptation and progress because that's what I see happening here.
Message to political leaders across the nation who don't want Syrian refugees in their states: If Lewiston can do it, then so can other U.S. cities and towns.
She closes with:

To be sure, there remains a divide between the newcomers and some longtime Lewistonians — cultural and religious differences that preclude anything but a civil intersection. But civility is a start. The first Somali-American children born in Lewiston are now in their freshman year of high school. They are Mainers, kids who grew up with snow and ice and the piercing blue of a winter sky. They wear wool hats over their hijabs and go to sleep at night with the nearby Androscoggin River a vast, unseen presence in the dark.
They, and Lewiston, are part of change. They are isbedal.
The "ugly" has happened…but not without pushback.
In October 2002, then-Mayor Laurier T. Raymond wrote an open letter addressed to leaders of the Somali community, predicting a negative impact on the city's social services and requesting that they discourage further relocation to Lewiston. The letter angered some people and prompted some community leaders and residents to speak out against the mayor, drawing national attention. Demonstrations were held in Lewiston, both by those who supported the immigrants' presence and those who opposed it.

In January 2003, a small white supremacist group demonstrated in Lewiston in support of the mayor, prompting a simultaneous counter-demonstration of about 4,000 people at Bates College and the organization of the "Many and One Coalition". Only 32 attended the rally by the white supremacist group. The mayor was out of state on the day of the rallies, while governor John Baldacci and other officials attended.

In 2006, a severed frozen pig's head was also thrown into a Lewiston mosque while the faithful were praying. This was considered very offensive by the town's Muslim community, as swine is proscribed in Islam. The culprit admitted to the act and claimed it to be a joke. He later committed suicide.
The award-winning documentary "The Letter, An American Town and the Somali Invasion" tells the story.
In The Letter, director Ziad H. Hamzeh explores what American news outlets have dubbed the Somali Invasion of Lewiston, Maine an insulated, predominantly white former mill town struggling to maintain its equilibrium in the wake of the 9/11 tragedy.
A firestorm of controversy erupts when Lewiston, Maine Mayor Larry Raymond sends an open letter to the 1,100 newly-arrived Somali refugees. He informs them that the city's resources are strained to the limit and asks them to tell other Somalis not to move to the city, a move interpreted as racism by some and a rallying cry by white supremacist groups across the United States.
The Letter documents the ensuing cross-current of emotions and events, culminating in an anti-immigrant rally convened by The World Church of the Creator and a counter demonstration involving nearly 4,000 Lewiston residents supporting ethnic and cultural diversity.
Problems for Lewiston's Somali residents from elected officials were not over. In 2012 the current Mayor of Lewiston, Robert E. Macdonald made headlines for comments he made about the town's Somali population, in an interview with the BBC:
In a documentary on America that aired Sept. 11, Macdonald told the BBC: "You (immigrants) come here, you come and you accept our culture and you leave your culture at the door."
Those comments came up again last weekend when the Maine Global Institute played the segment during a workshop in Portland.
Macdonald attempted this week to clarify the statement, telling WGME television: "When anybody comes here from any country, they have to embrace our culture. Now, do they have to give up their own culture at home? No. If they want to carry on you know, the Irish St. Patrick's Day, the French, the Italians, everybody, they all keep their culture, but we all practice a unique culture, and that is an American culture that over 200 years has been developed."
He also dismissed concern from the immigrant community that the comments apparently aimed at Somalis were divisive and hurtful.
"If you believe in (Somali culture) so much, why aren't you over there fighting for it?" Macdonald said in the WGME interview. "If you believe in it so much, why aren't you over there shedding your blood to get it? Why are you over here shirking your duties?"
McDonald recently won re-election, in a run-off against Ben Chin, who was targeted with 'Ho Chi Chin' signs.
Though much of the immigration debate in the U.S. has focused on Latinos, given the current right-wing hysteria over Syrian refugees, and Muslims, along with the Ebola fear-mongering of 2014, it is important to pay closer attention to the status of growing African immigration. Somali-Americans are one of those major new groups.
I plan to introduce my cultural anthropology students to Lewiston, and its new population of Somalis, showing the videos posted here, and using this text:
Somalis in Maine: Crossing Cultural Currents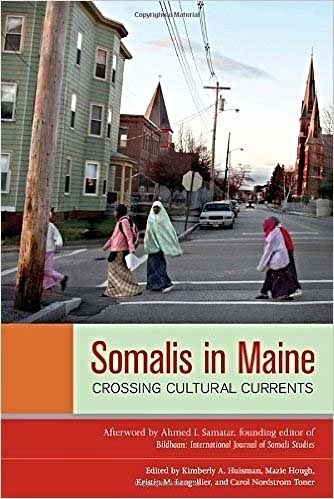 Lewiston, a mill town of about thirty-six thousand people, is the second-largest city in Maine. It is also home to some three thousand Somali refugees. After initially being resettled in larger cities elsewhere, Somalis began to arrive in Lewiston by the dozens, then the hundreds, after hearing stories of Maine's attractions through family networks. Today, cross-cultural interactions are reshaping the identities of Somalis—and adding new chapters to the immigrant history of Maine.

Somalis in Maine offers a kaleidoscope of voices that situate the story of Somalis' migration to Lewiston within a larger cultural narrative. Combining academic analysis with refugees' personal stories, this anthology includes reflections on leaving Somalia, the experiences of Somali youth in U.S. schools, the reasons for Somali secondary migration to Lewiston, the employment of many Lewiston Somalis at Maine icon L. L. Bean, and community dialogues with white Mainers. Somalis in Maine seeks to counter stereotypes of refugees as being socially dependent and unable to assimilate, to convey the richness and diversity of Somali culture, and to contribute to a greater understanding of the intertwined futures of Somalis and Americans.
So next time you think of Maine – don't just imagine lobsters and moose.
The landscape is far more colorful than you would think. Thanks to the Somali-Mainers.