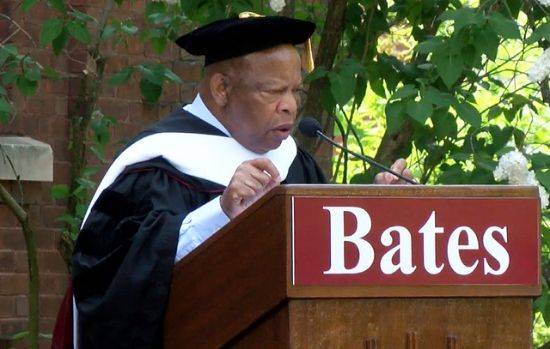 Civil rights leader and U.S. Rep. John R. Lewis delivers keynote address at Bates College 150th Commencement. May 29 2016
There are living legends among us. No need to open history books — we simply have to listen and learn. John Lewis—civil rights activist and Congressman is one of those who not only talks the talk—he has walked the walk. We are blessed to have him— alive —to tell us his story and serve as a power of example.
Lewis recently delivered the keynote address to graduates at Bates College.
Bates, located in Lewiston Maine seems at first look to be an odd place for Lewis to be giving a keynote speech at graduation. We learn through his address the Bates connection to the civil rights movement.

Civil rights hero John Lewis to Class of '16: 'Get in trouble — good trouble'
A dynamic speaker, Lewis dedicated most of his time to autobiographical episodes intended as inspiration and exhortation for the Bates students. But he began by recognizing the role of a founding father of the modern civil rights movement — the Rev. Benjamin E. Mays, Class of 1920 — and Bates' role in shaping that civil rights theorist and King mentor.
"I feel more than honored, I feel more than lucky, I feel blessed to be standing here on this campus to speak to you, the graduates, where a man by the name of Benjamin Mays once stood," Lewis said. "Many, many years ago I got to know Dr. Mays. He was part of my inspiration, he was my friend, my leader."
Lewis cited Mays' statement that Bates did not emancipate him, but instead enabled him to emancipate himself. "This is the great power of education, and Dr. Benjmain Mays is a shining example," Lewis said. "I want to thank Bates College for what you did, and continue to do, to free and liberate humankind."
Lewis never fails to speak of those man and women upon whose shoulders we stand.
For those of you who don't know his history — meet Dr. Benjamin Mays.
Benjamin Mays (1894-1984) was a minister, educator, scholar and social activist. He was known as the "Father of the Civil Rights Movement."
Mays was born the youngest in his family and his parents were both former slaves. He grew up in Epworth, South Carolina, just a few miles from Greenwood in a time in history of rigid segregation. This became the defining period of his life and he longed to get an education.
After pleading with his father he was allowed to go to SC State College to finish his high school degree. He decided he would get a college degree up north where he would have more opportunity. (**That college was Bates, in Lewiston Maine.)
The defining moment in Mays career was as president of Morehouse College where he would meet a young Martin Luther King Jr. He was an advisor to US presidents and was recognized internationally as a leader. Mays died in Atlanta on March 28, 1984.
Bates played a key role in Mays' education.
After spending a year at Virginia Union University, Mays grew weary of the segregated south and needed a place that ensured physical and emotional safety for him to pursue his studies. Professors at his university spoke highly of a small liberal arts college in Lewiston, Maine called Bates College, saying it provided "the best education available for an ambitious man like him." Mays' personal attraction to the college was tied to the college's debate team, which at the time was considered the best in the country, and his ability to have the "same opportunity to excel as an equal with other students."
He moved north to attend Bates in 1917. He was one of few black students at Bates, but he encountered little racial prejudice at the college and felt as through he was an equal. He said, of his time at Bates, "For the first time…I felt at home in the universe." While at Bates, he was captain of the debate team and played on the football team. In his sophomore year he became captain of the Bates Forum and served as the Class Day Speaker. He graduated from the college in 1920, with a B.A., as a Phi Beta Kappa graduate. Shortly after graduating from Bates, he married his first wife, Ellen Harvin, who died in 1923, following an operation. Approximately seventeen years later, the college extended an honorary degree, Doctor of Laws, and gave him the first-ever "Alumnus of Merit Award", subsequently renamed the "Benjamin E. Mays Medal", the college's highest honor.
To learn more about Dr. Mays, I suggest his autobiography, "Born to Rebel"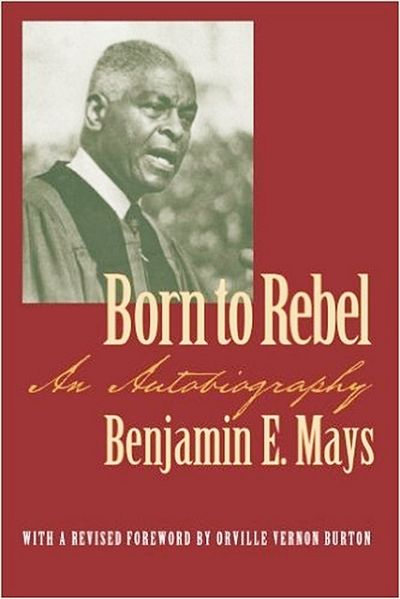 Born the son of a sharecropper in 1894 near Ninety Six, South Carolina, Benjamin E. Mays went on to serve as president of Morehouse College for twenty-seven years and as the first president of the Atlanta School Board. His earliest memory, of a lynching party storming through his county, taunting but not killing his father, became for Mays an enduring image of black-white relations in the South. Born to Rebel is the moving chronicle of his life, a story that interlaces achievement with the rebuke he continually confronted.
At the graduation, Congressman Lewis also told stories about his childhood, exhibiting his sense of humor.
Typical of Lewis' humor was the story he told about raising chickens on his parents' farm in Alabama. Wanting to be a minister, he'd preach to the birds in the chicken yard while his siblings and cousins watched.
"Some of those chickens would bow their heads, some of those chickens would shake their heads, but they'd never quite say amen," he said. "But I'm convinced that some of the chickens that I preached to in the '40s and the '50s tended to listen to me much better than some of my colleagues listen to me today in the Congress. Some of those chickens were a little more productive."
Recounting his first meeting with King, Lewis said that the great civil rights leader "inspired me to stand up, to speak up, and speak out. And I got in the way, I got in trouble — good trouble, necessary trouble."
So, he told the graduates, "You must find a way to get in the way and get in good trouble, necessary trouble. … You have a moral obligation, a mission and a mandate, when you leave here, to go out and seek justice for all. You can do it. You must do it."