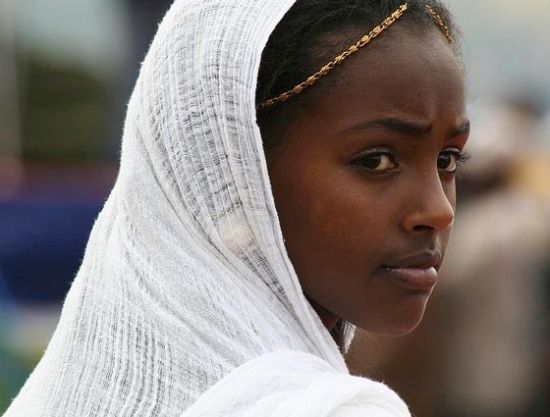 As Republican rhetoric against immigrants is being ramped up by their candidate clown-car—currently driven by Donald Trump—a lot of attention has been focused on Latinos as the targets of their nativist, birthright, xenophobic ire. We need to also remember that many immigrants to the U.S. are black, and not only face our foundational racism, but immigrants to the U.S. from Muslim countries in Africa face discrimination that is Islamophobic.
A Rising Share of the U.S. Black Population Is Foreign Born
Black immigrants are from many parts of the world, but half are from the Caribbean alone. Jamaica is the largest source country with about 682,000 black immigrants born there, accounting for 18% of the national total. Haiti follows with 586,000 black immigrants, making up 15% of the U.S. black immigrant population.

However, much of the recent growth in the size of the black immigrant population has been fueled by African immigration. Between 2000 and 2013, the number of black African immigrants living in the U.S. rose 137%, from 574,000 to 1.4 million. Africans now make up 36% of the total foreign-born black population, up from 24% in 2000 and just 7% in 1980.
The virulence against immigrants from the African continent is not new. The right-wing has been targeting the "Green Card Lottery Program".
USA: Will the Green Card lottery get a red card?
If the powers that be have it their way, a popular programme that has enabled thousands of Africans to migrate to the United States over the past 20 years, the Green Card Lottery, may soon cease to exist. From New York, Leslie Gordon Goffe explains the implications.

The Green Card Lottery is responsible for up to a quarter of Africans who have migrated to the United States. But the lottery has powerful enemies, especially Republican lawmakers in the US Congress, who are determined to see it dismantled and done away with as soon as possible. Each year, the US government gives out 50,000 special lottery visas to immigrants from countries that are underrepresented in the US population. Anyone, anywhere – from Tajikistan to Tanzania – can apply for the lottery for free simply by clicking on some buttons and numbers online. The lucky winners are randomly selected through the computer-generated spin of a wheel; if their number comes up, they are granted a Green Card to enter the United States – after clearing medical and criminal history checks.

Ironically, because Africans have long suffered more exclusion, discrimination and denial of entry to the US as a result of racist immigration laws than other races, this system made sure they benefited more from the spinning wheel, by putting Africans at the front of the queue of the most underrepresented people. Thus each year since its inception in 1995, around 50% of lottery visas, or 22,000 spots, have been allotted to Africans. It is a kind of affirmative action, designed to make up for past discrimination.
Virulently racist Islamophobe Pam Geller has focused on the program (warning link goes to r-wing site):
We have been importing jihadists for years now with Muslim immigration programs under the Refugee Resettlement program, diversity visas and religious visas. The Refugee Council USA says: "The U.S. has historically maintained a policy of admitting refugees of special humanitarian concern into the country." Yet what that means in practice is very different from what most Americans would expect. It's always a shock to people when they first find out how Refugee Resettlement works. Instead of giving refuge to the religious minorities that are persecuted, oppressed and subjugated under the Shariah, we are opening the floodgates to Islamic supremacists and jihadists.
The Southern Poverty Law Center has been documenting these hate groups:
Through his David Horowitz Freedom Center, a wealthy nonprofit based in Sherman Oaks, Calif., he has financed leading Islamophobes driving public opinion and attacked universities as leftist "indoctrination" programs. He leads several conservative publications, all dedicated to tenaciously defending Israel and viciously attacking Islam as a religion of "hate, violence and racism."

A report from the liberal think tank Center for American Progress, "Fear, Inc.," exposed Horowitz as a prominent member of a "small network [that] produces talking points and messages relied upon and repeated by every segment of this interconnected network of money, grassroots leaders, media talking heads, and elected officials." The report's author, Wajahat Ali, chastised Horowitz as a self-serving and toxic presence in a field of anti-Muslim pundits.

Virulent Muslim-basher Robert Spencer, director of the website Jihad Watch, is on his nonprofit's payroll, and Horowitz's online FrontPage Magazine publishes the work of Daniel Greenfield and Daniel Pipes, both of whom add to right-wing fears that Muslims are infiltrating the West. Horowitz also works closely with Pamela Geller, collecting money for her anti-Muslim hate group, Stop Islamization of America.
Much of this racist and anti-African animus has not been on our radar, and you may be surprised to find out that it has been festering and erupting in states like Maine and Vermont, places which we tend to think of as being all-white.
Let's take a look at Lewiston, Maine (currently 86% white), which has been going through racial strife.
Lewiston, Maine, Revived by Somali Immigrants
Barely a decade ago, Lewiston, Maine, was dying. The once bustling mill town's population had been shrinking since the 1970s; most jobs had vanished long before, and residents (those who hadn't already fled) called the decaying center of town "the combat zone." That was before a family of Somali refugees discovered Lewiston in 2001 and began spreading the word to immigrant friends and relatives that housing was cheap and it looked like a good place to build new lives and raise children in peace. Since then, the place has been transformed. Per capita income has soared, and crime rates have dropped. In 2004, Inc. magazine named Lewiston one of the best places to do business in America, and in 2007, it was named an "All-America City" by the National Civic League, the first time any town in Maine had received that honor in roughly 40 years. "No one could have dreamed this," says Chip Morrison, the local Chamber of Commerce president. "Not even me, and I'm an optimist."

Immigrants from Somalia may sound like improbable rescuers for a place like Lewiston. Maine is one of the whitest states in the country, second only to Vermont, and its old families have a reputation for distinct chilliness toward "outsiders." And many of the immigrants spoke no English at all when they arrived. But even beyond the obvious racial, cultural and religious differences between the Muslim newcomers and the locals, the town's image had become so negative that it was hard to imagine people choosing to move there. "Nothing could have rightfully prepared them," says Paul Badeau of the Lewiston-Auburn Economic Growth Council. "And nothing could have rightfully prepared us, either." It wasn't easy at first. Townspeople feared for the few jobs that remained in the area, and they warned that the strangers would overload local social services. In 2002, the then Mayor Laurier Raymond wrote an open letter to the Somali community begging them to stop encouraging friends and family to follow them to Maine.

But the Somalis kept coming, followed by Sudanese, Congolese and other Africans. By some estimates, 4,000 new immigrants have moved to Lewiston since 2001, and dozens are still arriving every month. Eight years ago, the town's adult-education center had only 76 students learning English as a second language. Now some 950 pass through every year. "This is just the teeniest little part of what has happened to the city," says the center's coordinator, Anne Kemper. "Everybody has had to scramble." Today, Somali women and children in donated winter parkas carefully navigate the snowbanks in the town's formerly crime-ridden low-income residential area.
More of the background is given in this Letter From Maine: New in Town:Somali refugees began arriving in Lewiston, Maine (pop. 36,000) six years ago. Word spread that Lewiston had good schools, a low crime rate and cheap housing — and the Somalis began arriving in droves.
Lewiston, an old mill town on the Androscoggin River, is known to out-of-staters—if it is known at all—for having hosted, in 1965, in a converted high-school hockey rink, a heavyweight title fight between Sonny Liston and Muhammad Ali. (The bout had the lowest attendance of any title fight ever.) With a population of thirty-six thousand, the town was until recently ninety-six per cent white and predominantly Catholic—French-Canadian and Irish—and was slowly losing its young people as local mills and factories closed. Unlike towns on the Maine coast, it didn't even see tourists. Then, practically overnight, the streets seemed to be full of black African Muslims. Today, there are about three thousand Somalis in Lewiston, and dozens more arrive every month. Before the Somalis arrived, the Lewiston school system employed one teacher of English as a second language. It now employs fifteen, for five hundred students, nearly all of them Somali. At parent-teacher-conference time, the schools hire extra interpreters. An improbable migration has turned into a large-scale social experiment.

The mayor, Laurier Raymond, tried to call the experiment off. In October, 2002, consulting no one, he wrote an open letter to the Somali community, asking people to stop bringing their families and friends to Lewiston. "Our city is maxed out financially, physically, and emotionally," he wrote. The Mayor was responding, in part, to the complaints of some constituents. Everyone had heard rumors: that the Somalis were getting free cars and vast sums of welfare money and preferment in public housing, and that they would soon bankrupt the town. The rumors were unfounded, but the fear and resentment they signified were real. It was not the best historical moment in which to be a Muslim immigrant in America, particularly not a Somali. There were the September 11th attacks, and then the release of the movie "Black Hawk Down." One of the American soldiers killed in the battle in Somalia which was depicted in the film had grown up near Lewiston, and images of his corpse being dragged through the streets of Mogadishu had been broadcast worldwide.

The Mayor's letter became a national news story, especially after a white-supremacist organization, the World Church of the Creator, based in Illinois, announced a rally in Lewiston to repel "the Somali invasion." The Lewiston Somalis were baffled and scared. An anti-racist counter-demonstration was quickly arranged. In January, 2003, state officials, including the governor and the attorney general, addressed a passionate rally at Bates College, in Lewiston, that drew forty-five hundred people. Meanwhile, across town, the neo-Nazis drew a crowd generously estimated at thirty-two, most of them out-of-staters. The white supremacists have not been heard from since, at least not formally. Mayor Raymond retired, and Lewiston got on with its experiment.
The work of combating racism and Islamophobia in Lewiston has continued, and the local YWCA has been an important player in facilitating dialogue and anti-racism education.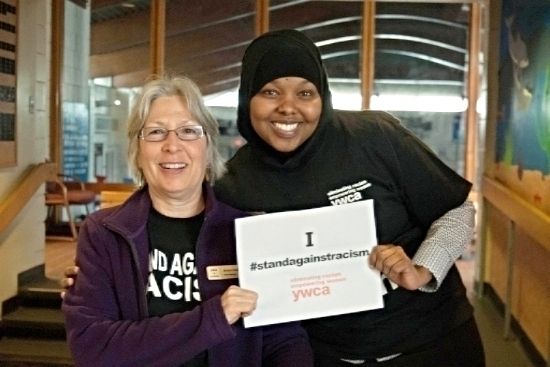 LEWISTON, Maine (NEWS CENTER) — The Lewiston YWCA had a "Stand Against Racism" event and march Sunday.
Members of the community got together to continue a conversation about race in their city. "Stand Against Racism" is aimed at educating people about race issues, opening up a dialogue and working for racial justice.

Students from Lewiston High School led small-group discussions, tackling big topics like stereotypes and sharing their own experience with racism. "Being uncomfortable in that situation shows that there is a problem, and so having these uncomfortable situations being evoked, it makes you open your eyes," Zakiya Sheikh, a Lewiston High School student said.

The event culminated in a march through Lewiston.
Black Kos editor ChitownKev wrote recently about Vermont getting its first NAACP Chapter. Like Maine, Vermont is another state we tend to view as almost all-white, and like Maine, many black residents are immigrants from Africa.
"…immigrants in Vermont are twice as likely to be from Africa compared to immigrants nationally.

In fact, more than one-quarter of all the African-Americans living in Vermont were born in Africa. Only four percent of the nation's African-American population was born on the African continent. The difference is most likely due to the relatively large number of African refugees the Vermont Refugee Resettlement Program has helped bring to Vermont from war-torn areas of the continent."
Vermont has an Association for Africans Living in Vermont (AALV)
Founded in 1999, the Association for Africans Living in Vermont (AALV) was originally a way for the small African community at the time to organize and discuss challenges of living in America. Today AALV is a non-profit community-based social service organization serving numerous refugees and immigrant groups who have resettled in Burlington, Vermont.
Burlington is comprised of many ethnic refugee groups of small numbers. Although the organization's name leads one to believe it only serves African refugees, a change in Vermont's refugee resettlement demographics in 2008 led AALV to broaden its refugee integration services beyond Africans. As refugees graduated from initial resettlement services with the Vermont Refugee Resettlement Program, an influx of refugees seeking employment and housing assistance came to AALV. The organization serves as a bridge between the refugee and immigrant community, service providers, and the Vermont community as a whole, AALV expanded its services to meet the growing demand. Between the 2008 and 2011, Vermont welcomed 1398 refugees. The countries of origin for these arrivals were Bhutan (60%), Burma (16%), Somalia (9%), Iraq (8%), and smaller numbers from Burundi, Republic of the Congo, Sudan, and others.
Back in 2012 protests erupted in Burlington at the local high school. The protesters didn't look like the young people we are used to seeing with bullhorns.




Burlington school district struggles at the racial "tipping point"
For some students, particularly English language learners (ELL) from Africa, the resulting discussion of their academic performance was deeply offensive, and triggered protests outside the school. The teens charge that, in spite Burlington's liberal reputation, they are frequently the targets of harassment, hate speech and unfair treatment.

"I know it takes time," acknowledged 17-year-old Fama Abuka at the meeting. She quickly added, "But how much longer do you guys need? How much longer? It's true we need to take baby steps. But we're going to have to move faster, because this is not getting us anywhere."

The latest report from Diversity Now makes a similar point, and adds a warning. "As minority groups increase their presence, a 'tipping point' is reached." This can trigger a backlash, "the emergence of what had previously been dormant racial, cultural and class prejudice." As an example it mentions one recent protest at the school by African students during which white students voiced "racial/cultural epithets many thought did not exist in our community."
Efforts have been made in Burlington to foster more dialogue, cross-cultural communication and education as a result of the protests.


As the media feeding frenzy around Donald Trump and his racist, misogynist xenophobic spewings continues to swell, as anti-immigrant sentiment in Europe, sparked by the flood of refugees, feeds the ranks of right-wing fascist movements and political parties there, we need to pay closer attention to our own liberal, and left-of center pastures here on the internet, where once again we see the language spawned in Fox hell-holes beginning to be sprinkled around on our blogs and websites and even lauded. I have noticed anti-immigrant sentiment popping up—couched in protectionist rhetoric about "American jobs". The use of the pejorative "illegal alien" rather than "undocumented worker" seems to be making a comeback as well. Many of us supported the "Drop the I Word" campaign back in 2010. Perhaps it is time to bring it back.
The Council on American-Islamic Relations (CAIR) represents Muslims of all colors and national backgrounds in the U.S., and tracks Islamophobia. Their recent video on a Islamophobia at Tea Party Capitol Hill Rally hosted by Ted Cruz and Donald Trump is extremely disturbing.


We have a real battle ahead of us. We can win it if we don't allow our forces to be divided.
Cross-posted from Black Kos